5 Fundamentals For Professional Services Marketing Automation Success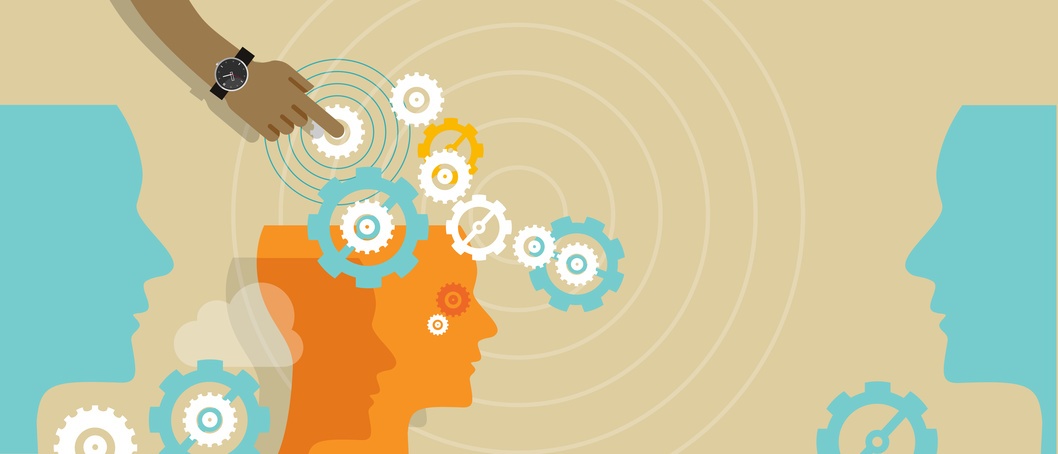 ---
Marketing automation technology has become affordable and usable for even the smallest professional services businesses. As buyers of B2B services turn to the web to research purchase decisions, a targeted content marketing effort managed by marketing automation is an effective way to build your revenue pipeline.
On the one hand, professional services businesses are building their sales pipelines through networking, referrals and other ways of leveraging people and businesses that you already know. Marketing automation will supplement those efforts by generating leads and opportunities with people and businesses that you don't know.
If you're thinking about getting started with marketing automation or if you're looking to be more effective with your current marketing automation efforts, it's important to understand the fundamental principles of an effective marketing automation process. Here are 4 fundamentals to consider as you build your professional services marketing automation process.
---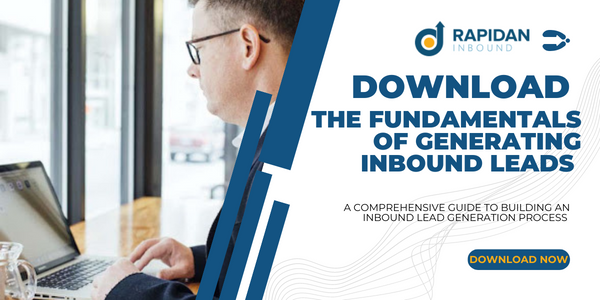 ---
Fundamental 1: Lead Generation
The fundamental goal of professional services marketing is to generate qualified sales leads that can be converted into paying customers. While we do need to increase brand awareness and position our businesses as trusted advisors, we do those things to grow our businesses.
The fundamental goal of professional services marketing automation is to effectively generate sales leads with content marketing. Educational content targeted at your ideal customers will attract potential buyers to your website as they research business problems and opportunities.
This is accomplished primarily by means of educational blog posts, which can be written content, videos, infographics, slideshares or any other type of content that educates and informs your potential buyers. In order to create a sustainable flow of qualified website traffic, you need to consistently publish new content that is useful to your buyers.
In addition to search engines driving traffic to your blog posts, successful professional services marketers share their content with email marketing and social media promotion.
So how does marketing automation support lead generation? Let's start by defining how the inbound lead generation process works. A potential buyers comes to your website to research a problem and finds a blog post you've written that helps them educate themselves on a business problem or opportunity. The lead generation process occurs when a potential buyer exchanges contact and demographic information for a premium content offer like a webinar or eBook that gives them a deeper dive into the area they're researching.
---

---
In the case shown in the illustration, the potential buyer is researching ways to increase member engagement. She sees a Call-to-Action on the blog post offering an eBook called, "The Essential Guide to Member Engagement." She clicks on the call-to-action and is redirected to a Landing Page where she can exchange her contact information for the eBook. She completes the form and is taken to a Thank You Page where she gets access to the eBook.
---
Fundamental 2: Lead Nurturing
Most buyers aren't ready to pull the trigger when they first come to your website. Various studies indicated that 75% to 90% of first-time website visitors aren't ready to buy. But many of these website visitors will eventually buy from someone.
The B2B buying process is similar to what you probably do if you're thinking about buying a big-ticket item like a car or an appliance. You go to the web and research options before engaging with potential sellers. A study by the Corporate Executive Board showed that the average B2B buyer completes 57% of her buying process before contacting a salesperson.
So when someone downloads your eBook or registers for your webinar, what do you do? Do you go for the sale immediately or do you wait for them to contact you when they're ready? The answer is neither. An automated lead nurturing process provides additional information that helps buyers move through their buying process.
Leads are nurtured by means of an email marketing process that delivers information that matches the leads progress through their buying process. For example, as the buyer moves from educating herself to considering ways to manage her problem or opportunity, you can share a case study that shows how you helped a customer successfully manage a similar problem or opportunity.
Remember when I said that 75% to 90% of those first-time visitors aren't ready to buy? If you do the math, that means that 10% to 25% are ready to buy. We suggest two ways to reach these people.
The first is to offer a Schedule a Consultation offer on all of your website pages. This gives those sales-ready buyers an opportunity to engage with you to discuss their situation. If your website content has demonstrated that you understand their problem and may be able to help them solve it, they will raise their hand and schedule an appointment with you.
The second way to reach sales-ready buyers is to reach out to qualified leads with a soft telephone outreach. You could call the lead and say, "Hi there, I was calling to see if you had any specific questions about (subject of content offer) or if you just were looking to learn more about (subject.)" If someone is in an active buying mode, they will let you know. If not, nurture them with email marketing.
Marketing automation is the engine of your lead nurturing process, delivering the proper content based on timing or buyer behavior on your website. For example, if a qualified lead visits your pricing page, this could be an indication that they have entered the decision phase of their buying process.
---
Fundamental 3: Segmentation
The DemandGen Report 2016 B2B Buyer's Survey concluded that personalization was important to buyers. When asked why they chose the winning vendor in a B2B buying process, 97% of buyers said the winning vendor, "demonstrated a stronger knowledge of the solution area and the business landscape" and 96% said "demonstrated a stronger knowledge of our company and its needs." In other words, the winning vendor delivered a solution personalized to the business and its needs.
The first step in personalization is to segment your marketing contact database by factors that allow you to personalize your approach to them, whether it be by industry, company size or the contact's role in their company. After all, an email targeted to a particular industry or other vertical market resonates more with the recipient than a "one size fits all" approach.
Marketing automation helps you segment your contacts based on the information they share with you when they fill out forms to download load generation content. You will note our lead generation form at the bottom of this blog posts asks three questions designed to help us segment contacts;
Your role

Your industry

Are you a HubSpot customer?
We make it easy for the people completing the forms by giving them a limited number of choices in a drop-down menu. Our HubSpot marketing automation software attaches the responses to the contact records, which allows us to segment our contact database by these factors. This allows us to personalize our marketing approach to our leads. For example, we can create a highly personalized email for business owners in the management consulting industry.
---
Fundamental 4: Lead Qualification
Lead qualification is an important element of any sales and marketing function and marketing automation helps you qualify your leads based on demographic data and their interaction with your marketing process. Even the largest professional services firms have limited sales resources and it only makes sense to use them on opportunities with a high percentage opportunity for success.
Qualification based on demographics
The same information we gathered for segmenting our leads can be used to qualify them. In our case, if someone identifies themselves as a marketing agency, we're not going to spend much time or effort marketing to them. On the other hand, if someone identifies themselves as a HubSpot customer in the professional services industry, we're very interested because we know we can help them.
Qualification based on interaction with your marketing
With marketing automation software like HubSpot, you know when your leads come to your website and which pages they view. You know how many and which lead generation content offers they've accessed. You know how many pages they've viewed on your website, which emails they've opened and a host of other information about how they're interacting with your website. In short, marketing automation helps you quantify that interaction by means of lead scoring. Lead scoring assigns points to various actions to help you measure a lead's interaction with your marketing process.
Lead qualification matrix
The chart below shows how you can use lead qualification to make your sales process efficient. The axis labeled Compatibility is based on how well the lead fits into your ideal customer profile. In the case we mentioned above for our business, a professional services business owner who uses HubSpot matches our ideal customer profile very nicely. The axis labeled interest measures how the lead has interacted with your inbound marketing effort and website.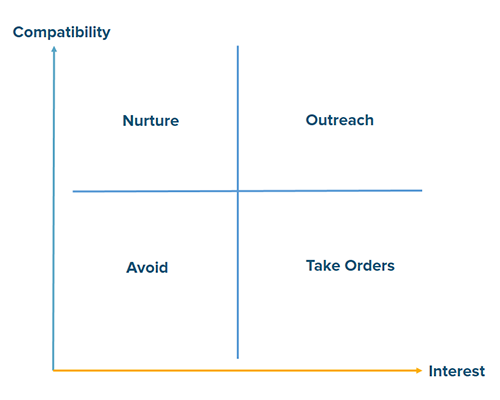 ---
Based on the combination of these two measurements, we will treat the leads in one of four ways.
High compatibility, high interest. This is somebody who fits your ideal customer profile and has been all over your website, downloading content offers and viewing important website pages. This is someone we want to reach out to as soon as possible to see if they are in the midst of a buying process.
High compatibility, low interest. This is someone who fits your ideal customer profile, but has not yet had a great deal of interaction with your inbound marketing process. This is someone we want to put into a lead nurturing sequence in an effort to warm up the lead.
Low compatibility, high interest. This is someone outside of your target market who is showing a great deal of interest in your inbound marketing content. This is someone who you should carefully consider doing business with if they are in the midst of a buying process. WARNING: this could be a trip down a rabbit hole or a customer that is mismatched with your mission, think carefully before pursuing.
Low compatibility, low interest. This could be someone that is highly unlikely to buy from you, for example, a student downloading one of your eBooks to help her write a term paper. This is someone you shouldn't waste time or resources on.
When you pass a lead on to sales, the sales professional should always apply human judgment to the lead qualification process. But your marketing automation software can do a lot of the heavy lifting in the lead qualification process.
---
Fundamental 5: Marketing Analytics
The beauty of inbound marketing and marketing automation is you can measure the success of everything you do. You know which blog posts were viewed most frequently, which social media channels are producing leads, which landing pages are most successful and tons of other analytical information.
By defining Key Performance Indicators (KPIs) and measuring which marketing efforts are moving the needle on them, you can effectively deploy your limited resources and budget to those things that produce the highest return.
You can also experiment with A/B testing to learn how to adjust your tactics to get better results.
Marketing automation software like HubSpot measures your efforts and allows you to create dashboards for periodic review and adjustment.
---
A well designed content marketing program managed with marketing automation software opens up opportunities that previously weren't available to SMB professional services companies. As HubSpot CEO Brian Halligan says, with inbound marketing, "marketing became much more about the width of your brain than the width of your wallet."
---